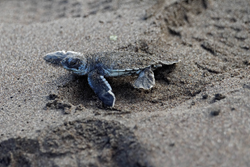 (PRWEB) November 07, 2014
Tulemar, in Manuel Antonio, Costa Rica, is a 33-acre gated resort known for occupying some of the areas most distinguished luxury vacation rentals and exclusive amenities that combine for a unique guest experience. Next weekend, Tulemar invites guests to a different kind of unique, taking place at the Annual Turtle Festival in the small beach town of Matapalo, a mere 25 minutes from the resort.
Matapalo Beach is one of the countrys most popular nesting areas for three species of sea turtles in Costa Rica. Every year, from July to December, hundreds of Pacific Green, Olive Ridley, and Hawksbill sea turtles hatch along the pristine Matapalo coastline.
To commemorate the hatching, every November a turtle festival is held, with turtle patrol tours, music, traditional Costa Rican foods, dancing, and contests.
Dave Houck, owner at Tulemar Vacation Homes comments, Were thrilled to promote the festival releasing turtles in Matapalo. Its one of those unique opportunities that so many of our guests look for, to witness the splendor of nature and celebrate with traditional Costa Rican customs.
Houck also emphasizes the hard work of the volunteers during the long process leading up to the release of the turtles; the Association of Volunteers for Services in Protected Areas (ASVO), hosts volunteers from around the world who assist in providing for the protection and care of turtles and their eggs, keeping them safe from predators and human looting. He states, from creating the refuges, to building nests for the eggs, to cleaning and patrolling the sites, there is a lot of hard work that goes into protecting these wonderful creatures. Its an experience we love our guests to be able to see.
This work has been a success, with an average of eighty per one hundred eggs hatched from the thousands that are laid on the beaches of Matapalo annually.
We love to keep our guests informed on these kinds of events that are for a worthy cause and an enriching experience, concludes Houck.
The Annual Turtle Festival will take place November 15 and 16 at Matapalo Beach; to learn more about the festival and vacation rentals nearby, visit http://www.tulemar.com.
Find More Love Food Festival Press Releases